Learn Dutch in your own way!
You are unique and your language training at
European Language Centre will be the same – just for you. For 30 years, our central focus has been providing a personal approach, quality and flexibility.
You can contact us for any language, language need
(such as writing or speaking) and location (home and abroad). We also organize online language courses. On the basis of a comprehensive intake, we propose lessons for you tailored to your budget, needs and available time. This ensures you get the Dutch course that suits you best!
Dutch for Expats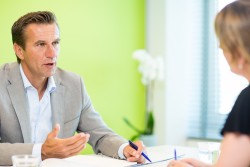 Do you live and/or work in the Netherlands but don't speak Dutch? At European Language Centre, we can help you master Dutch quickly and efficiently – in a way that suits you and your schedule. From the beginning, we have developed programs that perfectly match needs of our customers: professionals working in business and government. The focus lies not only on the language, but also on Dutch culture and traditions. We offer you the following programmes:
Tailor-made Dutch course in Amsterdam
Courses and practical workshops, such as a course in business Dutch, Dutch for beginners, advanced Dutch, Dutch course for HRM, financial Dutch, business and phone calls in Dutch, and writing business letters in Dutch
Tailor-made Dutch Course Amsterdam
European Language Centre does not work with standard training courses and methods. With our Tailor-made Language Training you receive private classes tailored specifically to your requirements. The duration and outcome of the Tailor-made Language Training depends on your basic language knowledge. We determine this in advance based on a comprehensive intake.
You can follow Dutch lessons at our language school in Amsterdam, which has the facilities for successful training. You can also choose another location: at your own office or at various locations throughout the Netherlands.
Dutch Courses and Practical Workshops
We also offer practical workshops to improve writing skills or giving presentations, amongst other skills. All available courses are tailored specifically to the target group—for example, Human Resource managers, IT professionals, financial managers or export managers.
For more information, call us on +31 20 609 79 70 or send us an email.
If you would you like to receive a proposal, please contact us using the form below: