Frans leren is een slimme zet!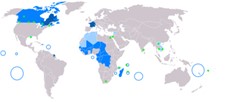 Wist u dat het Frans de komende jaren naar verwachting uitgroeit tot een wereldtaal? In 2018 spraken wereldwijd zo'n 280 miljoen mensen de Franse taal. Men denkt dat dit in 2050 uitgegroeid is tot 750 miljoen en dat het Frans daarmee een nieuwe wereldtaal wordt. Hoe kan dit? De Franse taal wordt, naast in Frankrijk, gesproken in o.a. Tunesië, Algerije en Marokko. Ook is het de voertaal in Guinea, Congo, Mali en Tsjaad. Hier is de bevolkingsgroei groot. Het aantal Franstaligen stijgt naar verwachting naar 8% in 2050.
Toch is de belangstelling voor de Franse taal de afgelopen jaren flink afgenomen. Ook in het onderwijs is er veel minder interesse in het vak. Maar nu u dit weet, klinkt het leren van de Franse taal vast een stuk interessanter? Als u denkt, 2050 dat is nog erg ver weg, dan nog een reden om uw talenkennis van het Frans nu alvast te vergroten: het is een pre op de arbeidsmarkt! In verschillende functies en sectoren, zoals commercie, marketing, communicatie, onderwijs, overheid, transport, toerisme en horeca, is het beheersen van zowel de Nederlandse als de Franse taal erg gewild. Mede omdat in een groot deel van ons buurland België de Franse taal wordt gesproken. Kortom: Frans leren is een slimme zet!
Verschillende trainingen Frans
Wilt u de Franse taal leren, dan kunnen onze native speaker trainers u hierbij helpen. U kunt bij ons snel beginnen en u bepaalt zelf het tempo en de locatie waar u de Franse les wilt volgen. U kunt bij ons terecht voor een Intensieve TaalTraining, een TaalTraining op Maat en een In-company Training. Alle trainingen zijn zowel fysiek als online te volgen.
Spreekt u de taal, maar wilt u meer kennis opdoen van de cultuur van het land en het zakendoen met Franstalige relaties? Dan is onze CultuurTraining geschikt voor u! In 1 of 2 dagen krijgt u alle informatie die u nodig heeft om succesvol zaken te gaan doen in een Franstalig land!
Bel gerust voor meer informatie, tel. +31 20 609 79 70 of stuur een e-mail naar: info@europeanlanguagecentre.nl.