Knullige vertalingen met grote gevolgen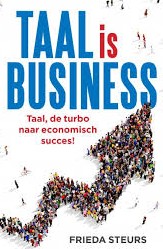 Knullige vertalingen kunnen bedrijven opbreken. Pepsi liet zijn slogan we bring you back to life in het Chinees vertalen als 'we brengen je voorouders terug uit het graf'. Parker ging door een vertaalfout in Mexico de markt op met een pen 'die je niet zwanger maakt'. De voorbeelden zijn ontleend aan het pas verschenen 'Taal is business'. De Leuvense hoogleraar Frieda Steurs, weldra directeur van het Instituut voor de Nederlandse Taal, bespreekt erin legio aspecten van de hedendaagse taalindustrie waarin miljarden omgaan.
Veel aandacht gaat in het boek uit naar glokalisering: het streven van bedrijven om zowel wereldwijd te verkopen (globaliseren) als zich aan te passen aan lokale talen en gebruiken (lokaliseren). Het belang van die combinatie is onder andere Ford ingeprent. Ford ontdekte te laat dat Ford Kuga op de Balkan Ford Pest kan betekenen.
Bron: Trouw, 11 juli 2016
Onze trainers zijn 'native speaker'
Dat verkeerde vertalingen desastreuze gevolgen kunnen hebben, hebben we
in het bericht hierboven kunnen lezen. Dat is een belangrijke reden waarom European Language Centre gebruik maakt van 'native speakers' als trainer. Dat betekent dat de taal die u leert hun moedertaal is. Daarnaast spreken de trainers goed Nederlands. Verschillen tussen de talen kunnen ze daarom goed uitleggen.
Kijk voor informatie over onze zakelijke taaltrainingen op onze website. Heeft u vragen, bel gerust! Tel. (020) 609 79 70. Of stuur een e-mail naar info@europeanlanguagecentre.nl.