Aanbieding TaalTraining op Maat
Boek nu 21 uur privéles voor € 1.800,00!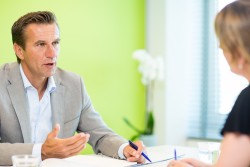 Dankzij ruim 25 jaar ervaring zijn wij in staat u de taaltraining te bieden die u het meeste resultaat oplevert!
U kunt snel beginnen en de training nog voor het einde van het jaar afronden.
Wanneer u voor 25 september a.s. uw training Business English,
Zakelijk Frans, Zakelijk Duits, Zakelijk Nederlands, Zakelijk Spaans of Zakelijk Italiaans boekt hebben we een speciale aanbieding voor u. U ontvangt 21 uur
(7 x 3 uur) privéles, inclusief lesmateriaal voor de speciale prijs van € 1800,00*!
Deze aanbieding geldt ook voor uw collega's.
Bel ons gerust voor meer informatie: (020) 609 79 70 of ga naar onze website. Wilt u een vrijblijvende offerte ontvangen, neem dan via dit formulier contact op.
*Deze kosten zijn exclusief een eventuele intake en BTW.