Nederlanders in het buitenland hechten aan taal en kroketten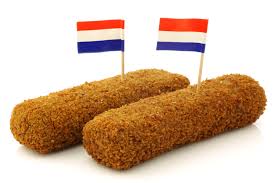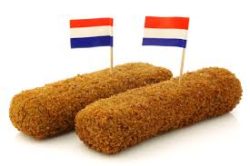 Nederlanders die naar het buitenland verhuizen houden ook daar vast aan de Nederlandse taal en cultuur. Dat blijkt uit onderzoek van de Taalunie en het Meertens Instituut. Ze spreken graag Nederlands, houden veel contact met het thuisland, eten regelmatig kroketten en stroopwafels en vieren Sinterklaas. "Dat zet je wel aan het denken over de vraag of wij niet met twee maten meten als het gaat om wat we verwachten van migranten in Nederland", zegt onderzoeker en hoogleraar historische taalkunde Nicoline van der Sijs.
Voor het onderzoek zijn bijna 7000 geëmigreerde Nederlanders en Vlamingen uit 130 verschillende landen ondervraagd. Het is voor het eerst dat is onderzocht hoe belangrijk Nederlanders die naar een Europees land zijn vertrokken hun moedertaal en cultuur vinden. Eerdere onderzoeken richtten zich alleen op Nederlanders die in Canada, Amerika of Australië zijn gaan wonen.
De onderzoekster noemt de uitkomsten opvallend, omdat uit eerder onderzoek bleek dat Nederlanders die in de vorige eeuw naar Canada of Australië vertrokken, hun moedertaal juist snel opgaven.
Bron: Trouw, 16 november 2019
Een taal leren en cultuur begrijpen noodzakelijk voor zakendoen in het buitenland
Als u emigreert betekent dat natuurlijk niet dat u al uw schepen achter u moet verbranden. Maar, om succesvol zaken te kunnen doen is het belangrijk dat u de taal van uw gesprekspartner leert. Ook biedt het u veel voordelen als u op de hoogte bent van culturele-, hiërarchische- en communicatieverschillen. Dit om uw zakenpartner aan te kunnen voelen, verbanden te kunnen leggen en elkaar dus echt te kunnen 'begrijpen'.
Neem voor meer informatie over onze taaltrainingen en/of cultuurtrainingen contact met ons op: tel (020) 609 79 70. Of stuur een e-mail naar: info@europeanlanguagecentre.nl.