Van Dale woord van 2015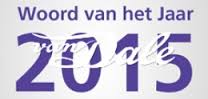 Aardbevingskamer, Je suis…, cyberkalifaat, jihadgala, selfiedode, poortjesspringer, sjoemelsoftware, nepfractie, vluchtelingenhek of WelkomstWinkel. Eén van deze tien woorden zal vanaf 15 december de geschiedenis ingaan als het 'Van Dale woord van het jaar 2015', aldus hoofredacteur van Van Dale, Ton den Boon.
'Het lijstje van genomineerde woorden is deels ontstaan uit inzendingen van het publiek en deels uit ons zelf aangeleverde woorden. Wij hebben daarbij vooral gekeken naar variatie en frequentie'.
Den Boon geeft aan dat veel inzendingen te maken hebben met gebeurtenissen uit het nieuws. 'Alles wat met de jihad, terrorisme, vluchtelingen, Volkswagen, de economie of Griekenland te maken had, stroomde binnen'.
Bron: Trouw, 25 november 2015
Ontwikkelingen in taal
Taal is altijd in ontwikkeling. Onze trainers zijn goed op de hoogte van wijzigingen in de taal die zij doceren en helpen u graag. European Language Centre biedt taaltrainingen voor professionals in bijna alle talen. Bel gerust voor meer informatie, tel (020) 609 79 70.