De top-10 van taalergernissen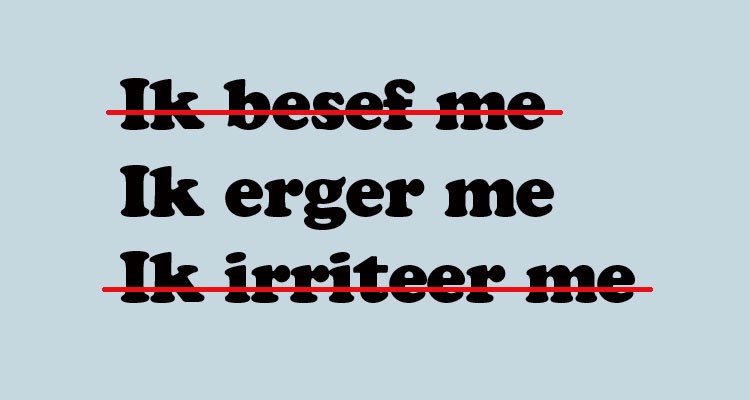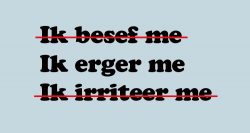 Japke-d. Bouma schrijft in het NRC wekelijks over de taal die zij om zich heen hoort. Deze keer: taal waar mensen zich het meest aan ergeren. Van reacties op Twitter heeft ze een toptien gemaakt:
Ik besef me. Je zegt niet 'ik besef me', maar 'ik besef'. Wél correct: 'ik realiseer me'.
Zich irriteren. Je irriteert je niet, je ergert je.
Me fiets, me moeder, me domheid.Het is 'mijn'. Wil je toch een korte variant, typ dan 'mn'.
'Zuurtjes' in de wijn, 'zoetjes' in de salade en 'kindjes' in de bakfiets. Extra erg: 'vriendinnetje' als een volwassen vrouw van 1,84 meter en 65 kilo bedoeld wordt.
Een stukje.'Stukjes beleving', 'stukjes kennisoverdracht' en 'stukjes communicatie'.
Een beslissing maken.Nee, een beslissing neem
Hun hebben, hun zeggen.Er zijn al geluiden om 'hun hebben' goed te gaan rekenen omdat zoveel mensen het zeggen.
'De man welke de verdachte met een hamer op zijn hoofd sloeg' of 'de tuindeur welke openslaat naar de tuin'. Zeg 'die' of 'dat'.
Zeg maar. Als stopwoordje.
Dit is wat we weten over…, dit zijn de 10 redenen dat…, dit is de slechtste kop ooit. Het was voor Japke-d. Boumaeen pijnlijk moment toen bleek dat velen zich ergeren aan dit soort koppen boven stukken die ook geregeld bij NRC te lezen zijn.
Bron: https://www.nrc.nl/nieuws/2017/09/15/dit-is-de-top-10-van-taalergernissen-13000357-a1573522.
Leer de taal zoals het hoort!
Taal is altijd in ontwikkeling. Onze trainers zijn op de hoogte zijn van alle regels en ontwikkelingen. Ze leren u de taal zoals het hoort. Bel gerust voor meer informatie over onze Taaltrainingen voor Professionals: tel (020) 609 79 70. Of stuur een
e-mail naar: info@europeanlanguagecentre.nl.